Maidenhead getting 'abstract art' underpasses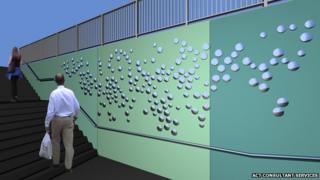 Work has started to transform two subways in Maidenhead into abstract works of art.
St Cloud Way underpass will be fitted with a sound installation echoing the town's high street hubbub and birds from the nearby nature reserve.
While Town Moor is being fitted with 1,000 mirror discs to reflect the flow of the river as well as people walking.
Town Moor is currently closed for the revamp until 9 May and St Cloud Way will be closed from 26 May for a week.
'Constellations of stars'
Sound artist Simon Fielder has been "mapping sounds from across Maidenhead" and "taking sounds the human ear would not be able to hear but are still in the most part triggered by wind".
Pedestrians will be able to hear sounds including birds, fountains, fences, Maidenhead High Street, Braywick nature reserve and the town centre clock tower.
Emma Ryan, who makes patterns by cutting paper, will have her designs scaled up in stainless steel as a visual accompaniment.
Town Moor subway will be the canvas for David Ward's commission, called Cascade.
"I wanted to draw a parallel between the flow of the river beneath Maidenhead's bridges and the flow of pedestrians through the underpass," he said.
"These reflective points of light may remind people of a cascade or of constellations of stars.
"All the walls will be painted in a palette of fresh greens to add to the association with landscape and the river."
The £197,000 project in Maidenhead will see a total of four subways renovated with art work like this.
Maidenhead council cabinet leader MJ Saunders said: "We are looking at every aspect of rejuvenating Maidenhead and we recognise that our subways are important gateways to shops, businesses and leisure facilities."