Reading Chronicle apologises for Hillsborough 'hooliganism' article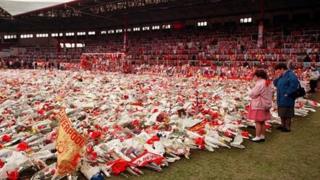 A newspaper has apologised for publishing an article that appeared to link football hooliganism with the Hillsborough disaster.
The Reading Chronicle article suggested Hillsborough had been a symbol of the game's ills.
It also cited hooliganism involving Reading Football Club fans leading to the club banning the paper.
Berkshire Media Group apologised "for appearing to link football hooliganism with the Hillsborough tragedy".
"It was never our intention to do so and we fully accept that hooliganism played no part in the tragic events of 15th April 1989," it said in a statement.
'It's disgraceful'
Ninety-six Liverpool fans died as a result of a crush during an FA Cup semi-final game with Nottingham Forest on that day in 1989.
Louise Brookes, sister of Andrew Brookes from Bromsgrove who lost his life in the tragedy, said: "It's disgraceful.
"It's unfair that they have been allowed to print such rubbish - there is no connection with hooliganism at Hillsborough."
Headlined the "Other Side of Football", the front page article also claimed Reading fans make Nazi salutes, are drunk, and fight with visiting supporters.
In an open letter on the club's website responding to the piece, Reading's chairman Sir John Madejski said the article was "an unwarranted and sensationalised attack".
The club said only one Reading fan was arrested at its stadium last season.
'Deeply offended'
"We have decided to suspend our relationship with this particular publication," Mr Madejski said.
"We are sure our supporters will agree that we cannot allow the fans' good name to be besmirched in this way.
"The newspaper also contains a comment relating to the Hillsborough tragedy that has deeply offended many of us in the football family."
Thames Valley Police said out of 18 fixtures at the stadium last season, only two were policed.
Supt Stuart Greenfield, area commander for Reading, said: "We would say that Reading Football Club is one of the best run football clubs in the FA.
"It's irresponsible and I don't think it portrays the right picture of Reading football club at all."