Philmore Mills: No charges over hospital custody death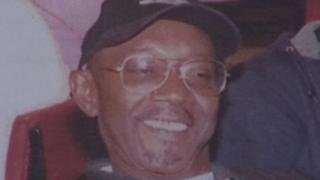 The Crown Prosecution Service (CPS) has ruled there is insufficient evidence to bring any charges over the death of a man in police custody.
Philmore Mills, 57, was being treated for pneumonia at Wexham Park Hospital in Slough, Berkshire, when he died on 27 December 2011.
He had been restrained by two police officers called to assist hospital security staff with a disturbance.
Mr Mills' death will now be the subject of an inquest, heard by a jury.
A CPS spokesman said: "We have concluded that there is insufficient evidence to charge either officer or any of the hospital staff with a criminal offence.
"Mr Mills was in an extremely poor state of health at the time of his death, suffering from severe lung and heart disease.
"Additionally, he had been admitted to the hospital with pneumonia. The results of post-mortem examinations included the fact that Mr Mills could have died at any time from these ailments.
"The pathologists who examined Mr Mills could not determine with certainty whether anything done by the officers had or had not contributed to the death. The evidence did not suggest excessive force was used during the restraint."
During the investigation, two Thames Valley Police officers and one civilian security guard were interviewed under caution.
The Independent Police Complaints Commission (IPCC) said the evidence gathered would now be passed to a coroner.
The IPCC's Associate Commissioner Guido Liguori said: "My thoughts are again with Mr Mills' family at this difficult time.
"Mr Mills' death will now be subject to an inquest where the evidence in this case will be tested in a coroner's court before a jury.
"We will publish our report once those proceedings have concluded."