Thames Water apologises over 'rotten meat' Eton Wick smell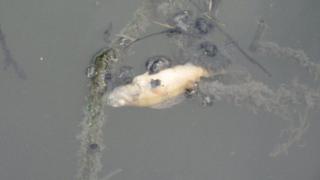 Thames Water has apologised over the smell and mess caused by pumping wastewater into the watercourse surrounding a Berkshire village.
Villagers in Eton Wick describe the smell which began in mid-January, as like "rotten meat".
A Thames Water spokesman said: "The situation along the watercourse is horrible - we're really sorry residents have had to suffer."
The water firm said tankers would now be used to remove the stagnant water.
'Open sewer'
The smell, villagers have dubbed the "great stink", can be noticed in varying degrees dependent upon wind, all over the village.
Resident Mark Cannon said: "Having to live with an open sewer for two months, the smell permeating into my home, seeing the harm and destruction to wildlife has been very distressing."
The water, discoloured to a whitish hue has "clear evidence of solids" according to residents.
In a statement the firm said: "Now water levels are reducing we're planning how we thoroughly clean affected gardens. We will do everything we can to get the area back to normal as quickly as possible."
High rainfall in January and February meant the sewer network in Slough was inundated with floodwater.
Thames Water said following this the wastewater discharge was "the normal, permitted practice in such exceptional weather conditions".