Oscar Wilde's grandson: Reading Prison must not 'disappear'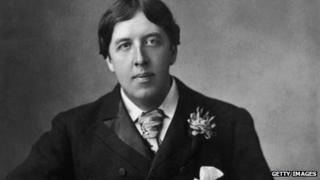 Reading Prison - where Oscar Wilde was once incarcerated - must not sit empty and abandoned, the playwright's only grandchild has said.
The Ministry of Justice owns the Grade II-listed building, which closed in December, and intends to sell it.
HMP Reading shut under government plans to replace four prisons with a super-prison.
Merlin Holland said he was "ambivalent" about the site but it would "be a pity" if it simply disappeared.
"It would be a pity if too much was discussed around what was going to happen to it and as a result the fabric of the building suffered," he said.
"I think there have been enough examples of this happening, for example Battersea Power Station in London, [and] I hope nothing like that would happen to Reading Jail. But it's an odd feeling."
Prisoners executed between 1845 and 1913 were buried on the site and the entire prison plot is designated as a Scheduled Monument.
The jail formed part of the walled precinct to Reading Abbey and contains a part of its church.
It was made famous by Wilde's poem, The Ballad Of Reading Gaol, which details his experience behind bars.
Labour councillor Tony Page from Reading Borough Council said there was no "prescribed view" as to what should happen to the prison.
"We obviously don't want to see it standing empty any longer than is necessary," he said.
"But we want to see a use of the prison that respects its historic status as well as its supremely site-sensitive location."
In February, the authority said archaeological investigations would be needed before any development could take place.
A Prison Service spokesperson said at the time it was an "early stage of the process" and no final decisions had been made.