Windsor's full-time fire station to open by year's end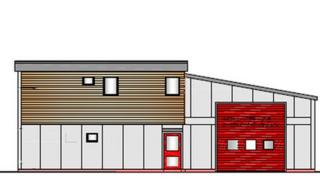 A round-the-clock fire station in Windsor will open by the end of the year after a seven-year battle to retain night-time cover in the town.
The local fire authority originally wanted to maintain cover at night from pumps based at nearby Slough.
But following a celebrity-studded campaign Windsor's council offered funds and a site for a new station.
Council leader David Burbage said round-the-clock cover would give residents "deserved peace of mind".
'Democracy in action'
Work on the new fire station will start in the spring following an agreement between the Royal Berkshire Fire Authority and the Royal Borough of Windsor & Maidenhead.
Representatives from both parties signed a 30-year rent-free lease on Wednesday.
The authority had earlier said Windsor was only receiving an average of three nightly calls a week and in 2007 announced the fire station, in St Mark's Road, would only be open during the day.
The council then offered a more cost-efficient site in Tinkers Lane, and councillors agreed to release £300,000 of capital funding for the project.
The remaining £100,000 needed for the new station has come from a government grant, allowing the St Mark's Road site to be sold off.
The Save Windsor Fire Station campaign had attracted support from local celebrities Sir Michael Parkinson, Sir Elton John and Sir Steve Redgrave, who sent a letter of support following the 2011 fire at his rowing club in Marlow.
In 2009 David Cameron visited supporters in Windsor after the campaign's unsuccessful bid at the High Court to reverse the fire authority's decision.
The authority's acting assistant chief officer Andy Clancy said it maintained it could "provide cover efficiently from our existing base at Slough", but that the agreement was "democracy in action".
Council leader David Burbage said the safety of residents was "a joint top priority".