Reading's King's Meadow Baths 'in jeopardy'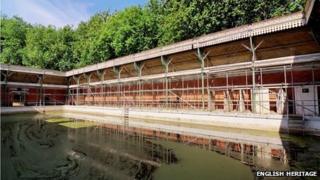 The future of a Grade II lido in Reading could be put in jeopardy because of delays in the council's planning process, developers say.
Glass Boat Company, which revamped Bristol's lido, is behind £3m plans to renovate King's Meadow Baths into a spa complex.
Arne Ringner, from the company, said the lido was slowly "falling apart", which was increasing its costs.
The council blamed the hold up on high volumes of planning enquiries.
'Clock is ticking'
Community group King's Meadow Campaign had endeavoured to renovate the lido but only raised £10,000 in two years.
In October, Reading Borough Council selected the spa complex as its preferred choice for the renovation of the baths, after putting a 250-year lease out to tender.
Originally, it was hoped construction of the spa would start this spring, but Mr Ringner said it was still in the "pre-planning stages".
"It's frustratingly slow," he said. "The clock is ticking. Every month that goes by adds another £10,000 worth of repairs."
A Reading Borough Council spokesman said: "Kings Meadow Pool remains a high priority for us because of the significance of this local landmark, and we will be progressing discussions with the prospective developer as soon as possible."