Berkshire residents demand action over sewage in gardens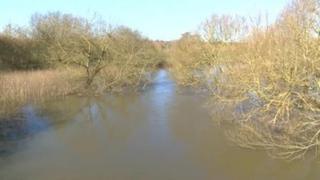 Families in part of Berkshire have met with local agencies in a bid to tackle what they say is a continuing problem with sewage in their gardens.
Residents in Lower Earley near Reading met with the Environment Agency, Thames Water, and Wokingham Borough Council.
Effluent has overflowed three times in the last two months, pouring into gardens and under homes.
Conservative councillor Angus Rose said "a number of actions" were agreed with residents at the meeting.
"[We agreed] to go away really and investigate the links between events and possible failures of some of the sewerage pumps, which are necessary to take the sewage away from this area," he said.
'Not pleasant'
Resident Graham Tivey said sewage has leaked from their neighbourhood drains four times since Christmas.
"The prime concern is that the water's dirty, it's from the foul sewers," he added.
"There is sediment and there is stuff in the water, so it's not pleasant.
"Obviously it goes everywhere and when it drains away, all the scum and the sediment stays. So the gardens are contaminated. It needs a clean."
Thames Water said there had been similar problems in many areas, including at Buckskin near Basingstoke.
The utility company said there was "no blockage of the drainage system" and part of the problem was flooding of the nearby River Loddon, causing sewers to back up.