Reading Council lodges new Abbey Quarter funding bid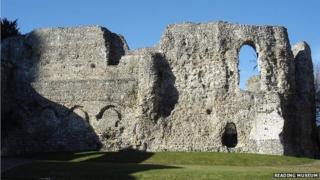 A fresh bid for funding to conserve Reading's Abbey Quarter has been submitted, the borough council said.
It said £3.1m is needed to protect the abbey ruins and the Abbey Gate, and for improvements such as pedestrian signage in the Abbey Quarter area.
The bid seeks a Heritage Lottery Funding (HLF) grant of £1.73m, with the council providing up to £1.36m in match funding.
A decision is expected in June. Two previous bids have been unsuccessful.
Buildings in the quarter include the 12th Century abbey, founded by Henry I, Jane Austen's school and Reading Gaol which was made famous by Oscar Wilde.
The abbey was founded by Henry I in 1121, and the king was buried there.
'Rapidly deteriorating'
The Abbey Quarter Project was launched after public access to the ruins was closed in summer 2009.
A condition survey at the time highlighted the "poor and rapidly deteriorating condition of the walls."
Paul Gittings, lead member for culture, said the council "had a duty" to ensure the "site of such historical significance" was conserved for future generations.
Reading Museum said the main conservation priorities would be the Abbey Ruins and the Abbey Gateway, both Scheduled Monuments on English Heritage's Heritage At Risk register.
Separate funding has already improved Town Hall Square last year and has been secured to restore St Laurence's churchyard wall during 2014-15.