Rosie's Rainbow Fund launches fundraising day to avoid closure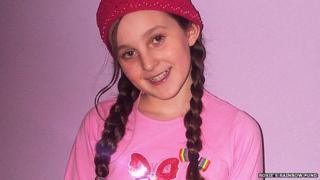 A cash-strapped charity for terminally ill and disabled children has launched a fundraising day to try and secure its future.
Carolyn Mayling from Maidenhead, Berkshire, founded Rosie's Rainbow Fund (RRF) 10 years ago after the death of her 11-year-old daughter.
She has launched Wear Rainbow Day to help raise the £90,000 needed per year.
The Berkshire Community Foundation (BCF) said small charities struggled in the face of tough competition.
'Operating on fumes'
Mrs Mayling said her charity, which supports families, hospitals and respite centres in Berkshire, Oxfordshire and Buckinghamshire, would soon be "operating on fumes".
Wear Rainbow Day encourages children and adults to be sponsored to wear their brightest clothes.
She said: "We've just been going through such a difficult time. It's just been awful. The funds are just really low. Small charities are really suffering at the moment."
Rosie Mayling died on 14 May 2003 of the rare disease Vasculitis, which destroys blood vessels by inflammation.
Mrs Mayling called her daughter's time at hospital "two-and-a-half months of hell".
Rosie suffered a cardiac arrest after she was discharged and spent 11 days on a ventilator before she died.
BCF chief executive Andrew Middleton said smaller charities struggle because "the big charities take most of the charitable income", thanks to "very proficient marketing and publicity".
The foundation's research in the last 12 months has shown 10% of charity money donated by Berkshire residents stayed in the county, with most of the money going to national and international charities.
The research also showed that a third of Berkshire charities lost 40% or more of their income over the same period.