Jubilee River extension could cost communities more than £100m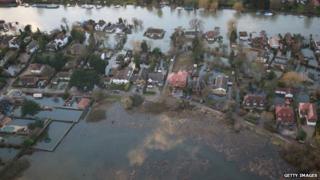 A flood alleviation scheme intended to protect 20,000 homes near the River Thames in Berkshire and Surrey could cost local communities more than £110m.
Funding to extend the Jubilee River, which protects Windsor and Maidenhead from flooding, was withdrawn last year.
Now the government will only fund part of future flood protection schemes, with the remainder coming from local councils and businesses.
Extending the Jubilee River would cost £250m and take nine years to build.
At present, the Jubilee River diverts water from the River Thames upstream of Maidenhead, reducing flood levels through Maidenhead, Windsor, Eton and Cookham.
The Jubilee River rejoins the Thames downstream of Windsor, and does not provide protection to communities downstream of the scheme.
'Too late'
Gillie Bolton is a flood warden on Ham Island in Old Windsor, one the areas worst affected by the current flooding.
She said: "It's going to be too late. I believe if the powers-that-be did something, it could be here in five years."
Conservative councillor Colin Rayner, who represents the flood-hit village of Wraysbury said he feared politicians and the Environment Agency were "backtracking".
"My feeling is we'll be talking here in 10 years time with another flood of our villages and we'll still be talking about this project," he said.
"We have people in our village who will never move back to their houses."
Environment Agency spokesman Andrew Howard said even once the funding for the project was in place, an extension to the Jubilee River would still take nine years to build.
Public consultation has approved the scheme, he said, and the agency was working on a three-year project to widen the weirs.
Once that work is complete, it will take five to six years to excavate and construct the channel, he added.