Princes William and Harry join flood effort in Berkshire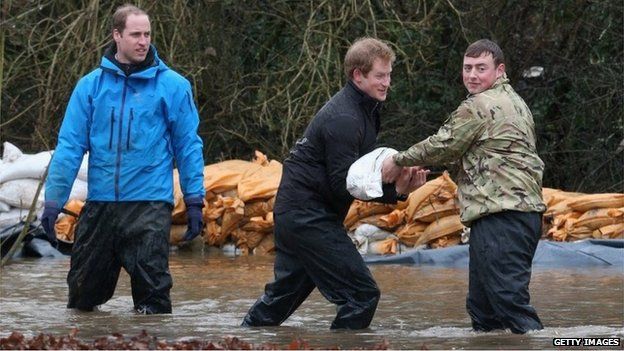 The pair have been working since 06:00 GMT in Datchet helping homeowners protect their properties with sandbags.
The brothers have longstanding careers in the military and Harry is still a serving officer with the Household Cavalry.
The Queen has also provided feed and bedding to flood-hit Somerset farmers.
A Buckingham Palace spokesman said she was "supporting" those affected on the Somerset Levels by making a contribution from the royal farms at Windsor.
On the princes' involvement, a Kensington Palace spokesman said: "They wanted to show their support for the flood victims and have joined the armed forces' relief effort."
The private visit was unannounced but television cameramen and photographers followed the pair once news of their work spread.
When Prince Harry was asked by reporters if he was enjoying helping out, he replied: "Not really, with you guys around."
A newspaper reporter said he was asked by Prince William: "Why don't you put your notebook down and give us a hand with the sandbags?"
But when the journalist agreed to help, aides said he was not wearing the appropriate clothing to carry out the role.
River levels in Berkshire are expected to rise further over the weekend, with the Environment Agency recording parts of the Thames at their highest for 60 years.
Meanwhile, the BBC understands Network Rail may shut the line between Reading and Paddington after flooding affected signalling equipment at Maidenhead.
Officials have denied any decision has been made and said they were "monitoring the situation".
A limited number of trains can run through the affected area with passengers advised to avoid the route if possible until a solution can be found.
More than 1,000 homes have been flooded along the Thames in the past two weeks.
West Berkshire Council said people who have been forced to vacate their homes due to flooding will be awarded council tax relief beyond the usual 28 days.
Related Internet Links
The BBC is not responsible for the content of external sites.