Two cyclists killed by car in Purley on Thames during police call-out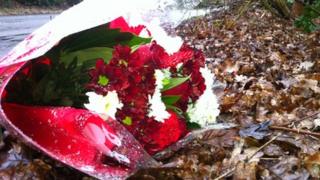 Two cyclists were killed when they were struck by a car in a village during a police call-out.
It came after police were alerted to a "fear-for-welfare" incident in Purley Rise, Purley on Thames, Berkshire, at about 21:00 GMT on Thursday.
Officers became aware of a black BMW convertible related to the call that struck the male cyclists, aged 30 and 39, both of whom died at the scene.
The driver is being held on suspicion of causing death by dangerous driving.
The riders have been named locally as father-of-two John Morland, 30, and father-of-five Kris Jarvis, 39.
The Independent Police Complaints Commission is investigating the scene.
A spokesman said a police vehicle, which was in the area at the time, "did not collide with any vehicles".
Police said the driver of the BMW, a 31-year-old man from Purley On Thames, sustained minor injuries and was taken to Royal Berkshire Hospital in Reading.
After he was discharged, he was arrested and remains in custody.
'Absolutely shocked'
Nearby residents have told the BBC they heard a loud bang, with police on the scene almost immediately.
A bouquet of red and white flowers was left at the scene by a woman called Karen, who said she was Mr Moorland's mother-in-law.
She said: "My daughter's in bits and the children too."
A local resident said he saw the victims on the ground outside his house.
He added: "The car rolled over and ended up outside the house and someone was being cut out of it.
"I didn't do anything as the police were already here."
A bicycle seat and other debris were in bushes at the side of the road, which has a 30mph speed limit.
Assistant Chief Constable Richard Bennett said: "There is a significant amount of work ongoing with regards to the investigation and so it is difficult to give any further details at the moment. Our thoughts and sympathies at this time are with the two families who have been left absolutely devastated by the loss of their loved ones."
Part of Purley Rise, between the junctions of Westbury Lane and Sherwood Rise, was closed while officers examined the scene but was reopened at about 07:00 GMT.
Bill Ayling, a councillor on Purley on Thames Parish Council, said he was "absolutely shocked" to hear of the deaths.
He said: "I know the road very well. It is well lit at night and it's up on a hill."
Parish council chairman Rick Jones said: "It's a shock. It's a very quiet village normally."
Anyone who witnessed the collision or saw the BMW beforehand is asked to contact police.