UK floods: Power cuts as Berkshire woes continue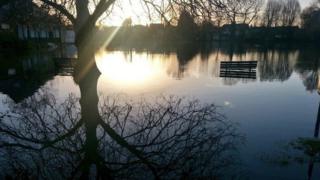 Hundreds of residents have spent hours without power, many roads remain closed and train services are disrupted as flooding continues to blight Berkshire.
Several villages along the River Thames are underwater with homes evacuated.
In Wraysbury, 100 troops have been helping flood victims after residents demanded the military be called in.
A number of Environment Agency staff received abuse from residents while working in the village on Monday and were withdrawn on police advice.
An agency spokesman said staff were able to return to Wraysbury on Tuesday and were continuing to work on the relief effort with other agencies.
On Tuesday, residents in Wraysbury said they had not received enough help.
Su Burrows, who has been co-ordinating volunteer flood wardens in the village, told Defence Secretary Philip Hammond, during his visit to the area, that they were tired and needed to be replaced by "professionals".
Assistant Chief Constable John Campbell, from Thames Valley Police, the "Gold Commander" for the flood-hit area, said residents would now see "a lot of staff on the ground".
"We have to prioritise and focus on trying to defend certain aspects of the Thames and the flood breaches, and that's what we were doing in terms of the initial deployment of military personnel," he said.
However, some people living further along the Thames, in Colnbrook, said they were wondering when they would get help.
Dave Wilkinson said it was "shocking" Wraysbury had been given help from the police, Army and fire brigade while he was still "stood in water" in his home.
Several severe flood warnings remain in place, with a month's worth of rainfall forecast over the next few days.
Prime Minister David Cameron pledged that 1,600 troops - later corrected to 600 by Downing Street - would be deployed by the end of Tuesday.
He said "thousands more" would be available for tasks including filling and moving sandbags and helping the sick and the vulnerable.
In Datchet, 1,700 homes were without power for more than six hours during a power cut on Tuesday night. Southern Electric said its engineers had restored supplies by 02:30 GMT.
There is still major disruption to several rail services, with passengers advised not to travel.
There remain severe delays between Reading and London after water leaked into signalling and electronic devices on the line at Maidenhead.