UK floods: Berkshire misery continues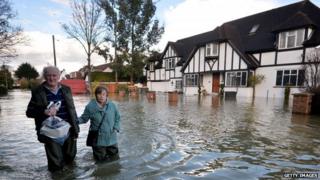 Hundreds of homes have been evacuated and many roads closed as flood misery continues in Berkshire.
Several villages along the swollen River Thames are underwater, including Wraysbury and Datchet.
During a visit to Wraysbury, Defence Secretary Philip Hammond was challenged by volunteer flood wardens who said there had been a lack of military help.
Visiting Purley-on-Thames, Labour leader Ed Miliband described the crisis as a "wake-up call".
Several severe flood warnings remain in place in the county, with further heavy rain forecast for the area over the next few days.
Thames Valley Police is running an emergency "gold command centre" to get help to the places that need it most.
Magician Paul Daniels has now left his house in Wargrave, which is surrounded by water.
"I put the waders on, I pulled Debbie out in a dinghy. It's not the water so much as the current. It's trying to take the shortest route."
Wraysbury resident Georgia Fletcher has also been forced to leave her home and said the water level there was too deep for waders.
"The water is up to the top of my thigh," she said.
"It's distressing not being able to get back to your own house."
Royal Borough of Windsor and Maidenhead council said it had delivered more than 30,000 sandbags to affected areas in the county.
Su Burrows, from Wraysbury, has been co-ordinating the volunteer flood wardens in the village.
She said they had "been on the go, constantly, for hours and hours with very little rest". The wardens needed to be replaced by professionals, she said.
During a visit to the village, Mr Hammond said he understood people were "tired and frustrated and feel let down".
He said if volunteers highlighted the tasks they needed help with he would "see if we can get troops in to do it".
Mr Miliband, who also visited Wraysbury, said flood defences needed to be made a higher priority.
"We need to make sure that we put in that investment, we put in those flood defences and protection, so that we prevent this kind of thing from happening as much as we possibly can."
Meanwhile, due to flooding at Maidenhead, trains are having to run at a reduced speed between London Paddington and Reading, with journey times extended by up to an hour.
First Great Western were advising passengers to only travel into and out of London if absolutely necessary, or consider alternative routes.
Services were also suspended on South West Trains between Staines and Windsor and Eton Riverside due to rising water levels.