Waltham St Lawrence sewers overflow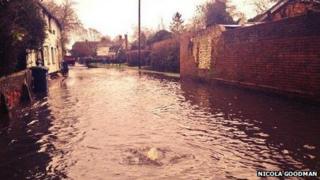 Residents in a Berkshire village have called for a tanker to pump away water from overflowing sewers.
Homes in Waltham St Lawrence, near Maidenhead have been affected by groundwater flooding since Christmas with levels peaking in recent days.
Nicola Goodman, who lives in The Street, described the water as "bubbling like a jacuzzi".
Thames Water said its sewer network had been "overwhelmed" by the wettest January since records began.
Windsor and Maidenhead borough councillor David Evans, whose house has also been affected by the flooding, has managed to secure a meeting with engineers from Thames Water next Wednesday.
'Working flat out'
"The pumping station outside the village just cannot cope with the volume of water coming through it," he said.
"There's around 15 properties directly affected by the overflowing sewers. What's required is immediate pumping, but Thames Water have not given us a direct response."
Councillor Evans said he had raised the issue with local MP Theresa May's office.
Becky Trotman from Thames Water said: "We are working flat out to keep our sewer network running.
"We're doing our best to help affected customers, but we have to prioritise those most in need of our support."
Thames Water says its remit for sewers does not extend to investigating and solving groundwater, river flooding or surface water problems.
Elsewhere in the county, Sunday's Wokingham half marathon has been cancelled because of flooding.
Organisers took the decision with water on some parts of the course 8in (20cm) deep and rising.