Reading Prison site needs archaeological dig before redevelopment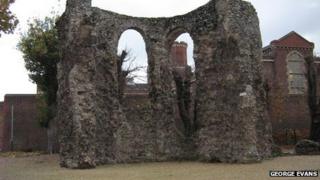 Archaeological investigations will be required at Reading prison before any development can take place, a local authority has said.
Reading Borough Council warns the site, which may date back to the Bronze Age, needs detailed archaeological work.
Councillor Tony Page said: "This is one of the most significant historical sites in the south of England."
The Ministry of Justice owns the Grade II-listed building, which closed in December, and intends to sell it.
HMP Reading shut under government plans to replace four prisons with a super-prison.
The jail formed part of the walled precinct to Reading Abbey and contains a part of its church.
Wilde ballad
Prisoners executed between 1845 and 1913 were buried on the site and the entire prison plot is designated as a Scheduled Monument.
The prison was made famous when it became the subject of the Oscar Wilde poem, The Ballad Of Reading Gaol, which details his experience behind bars.
Mr Page added: "We're not trying to put anybody off, but by publishing this document, we are effectively reminding all potential future buyers, or developers, that a high level of protection exists on the site."
The council said if a buyer could not be found it would ask the government to gift the building to them to avoid it becoming "mothballed".
English Heritage, the guardian of the site, and the Secretary of State would also need to give consent for any works to go ahead.
The building could be used for residential purposes, commercial offices or a hotel, the council said.
A Prison Service spokesperson said: "We are at an early stage of the process and no final decisions have been made on when the site will be placed on the market."