Disorder at EDL march in Slough town centre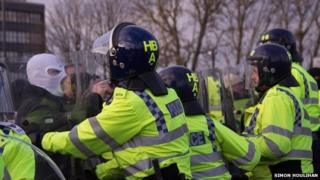 Two officers were injured and four people arrested in Slough following disorder at an English Defence League (EDL) march and counter-demonstration.
Thames Valley Police said officers in protective gear dealt with a "large gathering" at Queensmere and "incidents of minor disorder" at about 14:00 GMT.
Police tweeted: "Officers are doing all they can to stop the disruption & ensure the protests do not escalate".
Some town centre shops closed their doors.
Majority 'well behaved'
"The organisers of both protests had stated their intention was to protest peacefully," said a force spokesman.
"However, it appears a small element have felt the need to disregard this and cause disruption."
By 16:00 EDL protesters had begun to move away from the high street towards the train station with no further disorder reported in the town centre.
Supt Simon Bowden, police commander for Slough, said: "I am pleased that these demonstrations have passed off without major incident.
"Disruption was kept to a minimum and we are grateful for the support we received from local communities.
"There were a handful of arrests made over the course of the day, mainly for public disorder. However, the vast majority of those taking part were well behaved."