Greenham Common control tower funding for refurbishment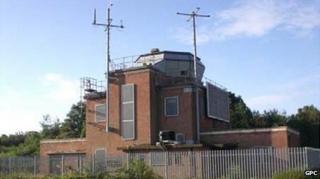 A Cold War airbase control tower is set to be turned into a visitor centre after receiving government funding.
Greenham Parish Council received £421,555 to buy and refurbish Greenham Common's air control tower.
It is hoped the interpretive centre, cafe and viewing platform will be open to the public by the autumn.
Greenham councillor Julian Swift-Hook said he was "very excited" the project had received the Community Assets and Services grant.
The project is a partnership between the local parish council, Greenham Common Community Trust, the local wildlife trust, voluntary organisations and colleges.
Cruise missiles
The funding will allow the building to be purchased from current owners, West Berkshire Council.
Mr Swift-Hook, said: "It's the last remaining visible monument to the Cold War on the common - it's got quite a story to tell."
Built in the early 1950s, the control tower helped the base play a strategic role in the Cold War but has been disused since the base closed in 1993.
The base was the focus for anti-nuclear protests when US cruise missiles were located there in the 1980s.
Following the airbase's closure, Greenham Common became a public open space in 2000 and is now home to a nature reserve and business park.