Thames Valley Police officer suspended over lost Taser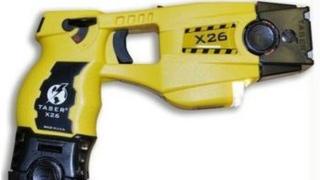 A policeman has been suspended after losing a Taser in Windsor Great Park.
The device was lost by the Thames Valley Police officer on Tuesday afternoon as he left the site to attend an incident in Datchet.
Supt Steve Williams, head of the tactical firearms unit, said it had the potential to cause harm "if used or handled incorrectly".
An "extensive" search in the Windsor area, and a full investigation into the incident, are under way.
The weapon, which has no cartridges attached to it, is thought to have been mislaid as the officer exited the park into Bishops Gate Road.
Supt Williams added: "If any member of the public should come across this device they need to contact Thames Valley Police immediately for us to recover it, as it is an offence to unlawfully possess this sort of device."
Tasers were first trialled in 2004 and their use has since been rolled out to all forces in England and Wales.
Officers are required to take a training course before being allowed to use a Taser and they are told only to deploy them when threatened with violence.
The 5,000-acre Windsor Great Park is owned by The Crown Estate.
It started out as a Norman hunting forest, which was enclosed in the late 13th Century, and still includes a deer park.