Slough 'beds in sheds' landlords to be charged extra council tax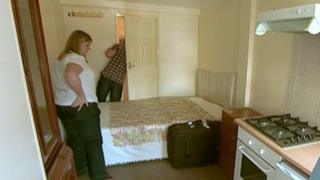 A council is planning to charge tax on some "beds in sheds" after new planning rules made them harder to shut down.
Slough wants to levy council tax on some of the garden dwellings that are deemed acceptable for living in.
It comes after it used aerial thermal imaging to find people living in outbuildings in a bid to tackle poor living conditions in the town.
The council said it has referred "acceptable sheds to the District Valuation Service".
Slough Borough Council initially received £220,000 from the Government Office South East (GOSE) to target landlords renting out sheds without planning permission and other unsuitable accommodation.
It investigated 6,000 outbuildings in the Berkshire town using a plane equipped with thermal imaging.
It was preparing to prosecute about 150 landlords who were renting these out without an Energy Performance Certificate (EPC),
However, recent changes in legislation no longer require EPC certificates for "small ancillary buildings".
The authority said it would still try to take action against landlords renting out larger illegal dwellings, which do require the certificate.
But it will now also grant permission for some acceptable buildings to be used as homes, meaning that landlords will then be required to pay council tax on them.
The authority has been turned down by GOSE for future funding to tackle poor accommodation.
But it said additional income from council tax levies might provide the money needed to do so.