Broadmoor Hospital work begins with sod-cutting ceremony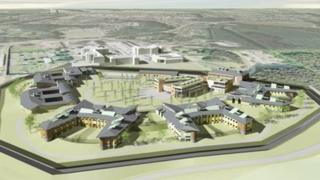 Work on a £242m redevelopment of Broadmoor Hospital in Berkshire has begun.
A new 16-ward, 234-bed unit is expected to open to patients at the high-security psychiatric hospital in Crowthorne, in early 2017.
Some Victorian buildings on the 130 acre (52 hectare) estate, deemed unfit for purpose in 2003, will be demolished.
A sod-cutting ceremony took place at approximately 13:30 GMT.
"This commemorative event marks the beginning of the three to four year building process for the new hospital," a spokeswoman for the trust said.
West London Mental Health NHS Trust said plans for the redevelopment include a new therapy building which will house shops for patients, education and vocational services and visiting suites.
Some of the hospital's 150-year-old buildings will be demolished during the redevelopment, which was approved in December 2013.
The trust previously said many "core aspects" of the site, such as its Grade I listed gatehouse, will remain, with buildings planned on parts of the site's woodland.
Broadmoor opened in 1863 as England's first asylum for the criminally insane.
It became a hospital in 1948 and is one of only three high-security mental health hospitals in the country.
Often incorrectly referred to as a prison, some of the country's most notorious killers and sex offenders have been treated within the hospital.
In the 1960s there were about 1,000 patients at Broadmoor, which has been an all-male unit since 2006.
It now has about 200 patients, including Yorkshire Ripper Peter Sutcliffe.