Christchurch Meadows leisure plans petition launched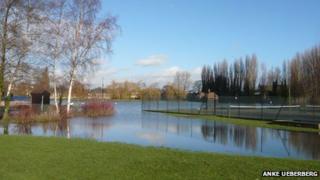 Plans to build leisure facilities on an open space in Reading would "disfigure" the area, according to campaigners.
A Save Christchurch Meadows petition has been launched against Reading Borough Council's proposals to develop a high ropes adventure course and mini golf on the floodplain.
Campaigners also argue the plans would be "detrimental" to wildlife.
The council said the plans followed a public consultation which highlighted the need for a leisure development.
The petition, which already has more that 200 signatures, needs 1,500 in order to trigger a council debate.
Campaigner Anke Ueberberg, who helped set up the petition, described the area as "a wonderful open space" which should remain "wide open".
She added the area "might not be able to fulfil its use as a floodplain" if it is developed.
'Bluntly contradicting'
The council said the plans were brought forward last year following a public consultation, where 70% of people who responded said they were in favour of leisure development.
In the last decade Christchurch Meadows has flooded three times, according to the authority.
It said any proposals brought forward would need to "compliment the riverside location" and also "plan for disruption caused when river levels rise".
"Whilst occasional flooding does not in itself make leisure facilities unviable, these elements will obviously be given serious consideration before any proposals are taken forward," the council said.
Ms Ueberberg said the plans were "bluntly contradicting" the council's adoption of the Reading Central Area Action Plan to 2026.
The plan states Christchurch Meadows "will be protected from development".
The council responded by saying any new planning applications "cannot contravene any of the council's planning policies".
"Any additional leisure offer would need to enhance the enjoyment and amenity value of the space in the same way, as highlighted by our planning policies," it added.