Purley-on-Thames flood defences 'complete by March'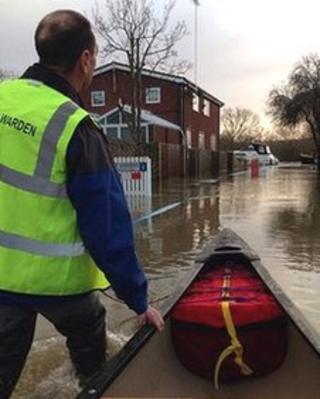 A flood-hit Berkshire village has been promised that new flood defences will be in place by the end of March.
Around 70 homes have been affected by recent flooding in Purley-on-Thames.
The Environment Agency says it will create an "earth bund" or bank which will provide some "resistance to water" by the end of March.
The bund would not have protected homes in recent floods but the Agency said it was talking to local authorities about reducing future flooding.
The bund will be constructed to the north of Wintringham Way as soon as ground conditions become favourable, in addition to putting in a pumping platform.
Resident Bernard Nix said the village had experienced two "once-in-a-hundred-year floods" in 10 years.
Mr Nix said: "We don't want a 10ft bank encircling the village like a castle, but it's as good as can be done at reasonable cost and with minimal damage to the environment."