Windsor baby death child services criticised in review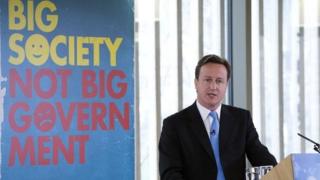 A review into the death of an 11-month-old boy killed by his mother criticises child protection practice at the cost-cutting council which leads David Cameron's Big Society agenda.
Callum Wilson was known to social workers at the Royal Borough of Windsor and Maidenhead, one of four so-called vanguard Big Society authorities.
He was fostered at birth but was returned to his mother seven months later, who then pretended to friends he was a relative's baby.
A serious case review, as yet unpublished, is understood to question the assessment and monitoring of the family.
Criticisms are also levelled at the council over one of its Sure Start centres at Woodlands Park Village where staff and parents noticed bruising on the toddler in the days before his death.
Unusual circumstances
On Friday, Emma Wilson was jailed for life with a minimum term of 14 years for the murder of her son.
Callum suffered rib, arm and leg fractures, and bruising across his face and body, but his mother claimed the injuries were caused by his "boisterous" elder brother, then aged two.
When he was born at Wexham Park Hospital near Slough, she decided to have him fostered, and - according to evidence heard during her Old Bailey trial - texted her social worker agreeing that he should be adopted.
She apparently had a change of heart and Callum was returned to live with her in Windsor in November 2010.
The review is understood to be critical of a failure to take full account of these unusual circumstances.
A spokeswoman for the Conservative-led council said it was "very aware" of the case but refused to comment until publication of a review, which is expected in the coming weeks.
Questions have been raised about whether cost-cutting by the council may have been a factor contributing to an environment where staff could have been over stretched, under qualified or poorly managed.
In the year before Callum's death, the royal borough had made headlines announcing a 4% cut in council tax for its residents, then a record reduction in the UK, partly through savings to children's services.
Lynne Jones, an independent councillor at the authority who sits on the panel overseeing children's services, said it was likely the constant pressure on managers to find savings had affected the time they dedicated to the quality of the service.
She said: "It's got to impact on services because you've got a management team that are focused on providing savings, [which is] time they're not spent actually running the service that they're supposed to be running."
The council followed up its reduction in 2010 with further council tax cuts - albeit smaller - in subsequent years.
At the time of Callum's death in March 2011, the council was in the process of approving cuts of £1.5m to the children's services budget for the following year.
Writing on the Conservative Home website at the time, council leader Dave Burbage said it wouldn't compromise the quality of care or adversely affect front-line services.
Staff morale
As with austerity, the authority has embraced the Big Society agenda with enthusiasm.
It has recently pioneered the idea of a Carebank, where residents who give their time helping elderly people gain credits, entitling them to sessions at the local gym or swimming pool.
But although the case of Callum Wilson has been hanging over the council, it changed social workers' terms and conditions this year, leading to a sudden increase in staff vacancies.
Last year, 20% of social work positions were filled by agency staff, and as a consequence the council's salary bill increased by £100,000.
Ms Jones said she warned the changes would hit staff morale and lead to an exodus.
"We had these vacancies. We were using these agency staff. It's costing us more now. I said to the officers 'I told you so'," she said.