Windsor and Maidenhead cuts council tax for fifth year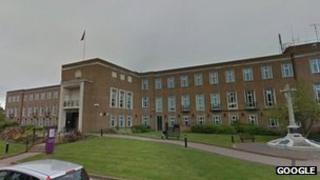 Residents in Windsor and Maidenhead are to have their council tax bills cut for a fifth year, the council has said.
Royal Borough of Windsor and Maidenhead is proposing a 2% cut in its share of council tax in 2014-15 along with £6.1m of cuts and 31 job losses.
The authority has come under criticism from opposition councillors for its programme of cuts. One branded the move "absolutely crazy".
The council said the reduction would put £1.3m back into the local economy.
Since 2010, the authority, which employs about 1,400 people, has cut 159 jobs.
Finance councillor Simon Dudley said: "We have a laser-like focus on finding efficiencies, cutting waste and developing smarter, leaner and more effective ways of working. We run our finances knowing that it is residents' money to spend prudently."
'Headless chickens'
Opposition councillor Malcom Beer, leader of the Old Windsor Residents' Association group, said: "We are already in jeopardy with the level of service behind the scenes and this can only make matters worse. It's absolutely crazy.
"They are offloading the jobs of people that have been made redundant on to the existing staff and everybody is running around like headless chickens."
Last year, the council invited residents who were concerned about the cuts to donate the money they saved on their bills back to the council.
Two people responded to the "pay back" scheme, donating a total of £433.
Council leader David Burbage said: "Reductions are generally warmly welcomed by our residents but some have told us that they would rather see their money used for the community good.
"That's why we will be offering this option again and more details will be available when council tax information is sent to every home."
The proposed reduction means the Band D rate is predicted to fall by £19.38 to £926.40, from £945.78 in 2013-14.
In 2012-13, the authority cut council tax by 3%, from £975 for a band D property in 2011-12.
The council said the next round of job losses were likely to be made up of 18 redundancies and 13 posts lost either through natural wastage or existing vacancies.
The proposed 2% reduction does not include precepts for police, fire and parish councils.