Riding instructor sentenced over Newbury brothel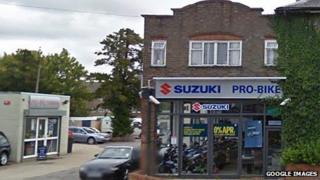 A horse-riding instructor has been sentenced for her role in helping to run a brothel in Newbury.
Jenine Jones, 41, from Hertfordshire, answered calls from clients, banked payments and cleaned two bedrooms at the flat in Newtown Road.
The mother-of-one denied assisting in the management of a brothel but was convicted at a trial in November.
Jones was given a four-month jail sentence, suspended for 12 months, and ordered to do 160 hours of unpaid work.
'Unhurried massages'
Sentencing, Judge Angela Morris accepted Jones had an "administrative role" rather than an organisational one at the brothel, which was open 12 hours a day and seven days a week.
She worked in her equestrian role by day, but in the evenings acted as a madam to prostitutes in the flat.
Reading Crown Court heard Jones liaised with brothel owner Meinir Kirlew and helped hide takings.
The illicit business had placed adverts in local Newbury papers offering "relaxing and unhurried massages".
Prostitutes from eastern Europe would pay Kirlew for use of the premises.
'Baby oil'
Jones worked at the brothel two days a week as what her defence barrister John Blandford called "a maid plus".
Judge Morris heard how Jones, who has an eight-year-old son, was entrusted by brothel keeper Kirlew to bank cash payments.
When police raided the apartment, above a motorcycle shop, Jones was found outside a window and told officers she thought the flat was being burgled.
Inside the bedrooms, officers found condoms, baby oil and pornographic material.
Kirlew pleaded guilty last year to managing a brothel and is due to be sentenced on 11 April.