Raised Thames levels halt Windsor castle hydro power scheme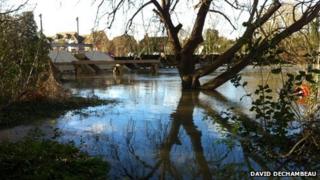 Raised water levels on the River Thames have halted the hydro-electric generators used to provide green energy to Windsor Castle.
The turbines have not worked since Christmas Eve because there is not enough of a drop on the weir to generate power.
Scheme managing director David Dechambeau said: "Remarkably, you can have too much water for hydro power".
In the meantime, the castle is being run on energy from the national grid.
Mr Dechambeau, managing director of Southeast Power Engineering, said: "You need two things to make hydro power, you have to have a volume of water but you also have to have a drop over a weir."
He added the turbines had automatically shut down because "the water levels were so high there was no drop".
On average, the scheme creates enough power for 400 homes
It could be operational again on Sunday if water levels continue to fall.