Daughter helped her Newbury parents to die, inquest hears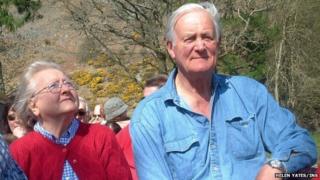 An elderly couple from Berkshire could not face living life apart and were helped to die by their daughter, an inquest has heard.
Retired GP Dr David Arnold and his wife Elizabeth, from Newbury, had made a pact to end their lives when their quality of living became unbearable.
Georgina Roberts, 59, said she acted out of "compassion and love" when she gave her parents lethal drugs in 2012.
Prosecutors said it was "not in the public interest" to charge her.
Berkshire coroner Peter Bedford recorded a narrative verdict and said he had "no doubt" Ms Roberts had assisted the deaths of her parents.
He added that from the evidence he fully accepted she was motivated by "genuine compassion and a desire to carry out her parents' wishes".
'Today was the day'
The couple were in poor health. Dr Arnold, 82, had Parkinson's Disease and had had a leg amputated. His wife, who was 85, had dementia and diabetes.
The court heard Ms Roberts gave her parents lethal quantities of a barbiturate on 13 July 2012.
She had bought the drug online at her father's request and prepared it in two cups.
The court heard Mr Roberts had asked her parents if they were sure "today was the day" and they had said it was.
She said they fell into a deep sleep and she had watched them in "stunned silence".
"I loved my parents very deeply and wanted to help them when they couldn't help themselves," she added.
Malcolm McHaffie from the Crown Prosecution Service said while there was sufficient evidence that Ms Roberts assisted the suicide of her parents, it would not be in the public interest to prosecute her.
He added that it would also not be in the public interest to charge Ms Roberts with perverting the course of justice regarding a statement she made to the police shortly after her parents' deaths.