Poll held on Slough roundabout safety trials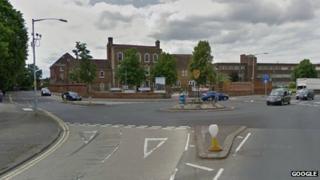 A series of trial road modifications to improve safety at an accident black spot have concluded, with residents being asked which one worked best.
Slough Borough Council spent nine months testing various measures to slow traffic and reduce collisions at the Harrow Market roundabout in Langley.
In one of the three-month trials, lane widths on the approaches were reduced. In another, they were reduced on Station Road only.
Speed bumps were also installed.
Residents and business are being sent questionnaires about the trials in a consultation that will last three weeks.
In March 2013, a 20mph speed limit was introduced but the council says the area, in particular Station Road, is a problem spot for cyclists and pedestrians being hit by cars.
The authority said it was duty bound to act after 17 people, including eight pedestrians and cyclists, were injured in collisions near the roundabout in the three years before the speed limit was introduced.
A council spokesman said further measures were needed to make sure drivers stuck to the limit.