Slough 'rat run' Lansdowne Avenue closed to through traffic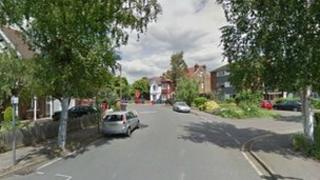 A road in Slough used as a "rat run" has been closed to through traffic.
Lansdowne Avenue has been shut at the A4 Bath Road end by Slough Borough Council as a trial to prevent it being used as a short cut.
The council said residents living on the road had "been blighted" by people using it to avoid traffic lights at Stoke Poges Lane.
However, some businesses fear the closure could affect customer access and trade.
The closure is expected to be in place for six months after which it will be reviewed, the authority said.
Lynsey Brookfield, of Slough Borough Council, said: "We will be monitoring the effects on the Stoke Poges Lane and A4 junction and liaising with the residents to see if the closure has improved matters for them."
Tahir Ali, owner of the Al-Samit Hotel on Landsdowne Avenue, said when used as a cut through the road was "dangerous".
However, he said he was worried the closure could lead to a drop in custom and said the council should have kept it open and put up a residents' only sign.
A spokesperson at the Bharani Medical Centre said it was affecting some patients accessing the building on the road, as well as deliveries, as they were now having to use Stoke Poges Lane from the A4.