Purley-on-Thames residents angry over flood defence delays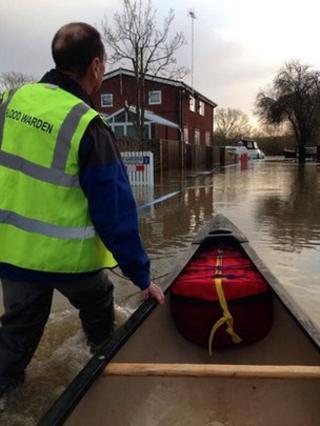 People in a Berkshire village that has been repeatedly flooded are angry about delays to build new flood defences.
The Environment Agency had proposed constructing a 100m (330ft) long barrier to protect homes and roads in Purley-on-Thames, but it was never built.
Up to 70 homes have been affected by flooding in the village in recent days.
The agency says it never promised a barrier and has pumps in place to help reduce flooding.
But resident Bernard Nix says damage could have been prevented if the barrier had been built.
He said: "There are people here whose houses have been flooded unnecessarily in our view and also the inconvenience of the road flooding is also a pain.
"The fact that we haven't got this protection is a worry to all of us."
Levels rising
The EA said: "A flood barrier for Purley-on-Thames has not been promised as part of our incident response.
"The Environment Agency has pumps in place to help reduce the risk of flooding to properties in Purley.
"However, there is a longer term project looking at whether a permanent defence could be an option here."
A spokeswoman explained that plans were under way to create an "earth bund" in Purley that "will provide some resistance to water" if it rises over the top.
"However, the flood water has been too high this past couple of weeks for the bund to have prevented it, even if it had been in situ," she added.
There are still 19 flood warnings in place across the county and river levels are continuing to rise, the Environment Agency has warned.
Levels on the rivers Thames, Loddon and Kennet are expected to peak on Friday.
On Wednesday night, fire crews struggled through floodwater in Twyford to tackle a barn fire.
The building and machinery inside it were destroyed.
By the end of Wednesday, Reading Borough Council estimated it had delivered about 1,000 sandbags.
A number of roads remain closed and Loddon Bridge park-and-ride will remain closed until Sunday.