Ham Island residents say flooding 'worst they have seen'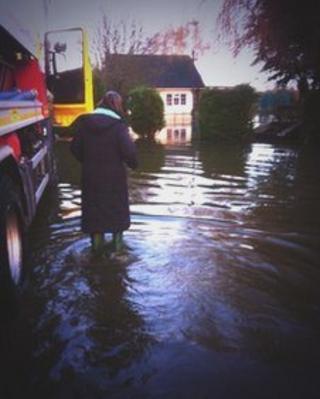 People living on an island on the River Thames in Old Windsor have been helping neighbours after their homes flooded overnight.
Cait Kidd, a mother of three, has lived on Ham Island for two years and says her son's bedroom and husband's workshop both flooded on Tuesday.
Her family had moved all smaller items upstairs and put their piano on to blocks to escape the flood water.
"The community spirit here is fantastic," she said.
"Yesterday we needed help with sandbagging, within minutes everybody was here.
"The water is just at a couple of inches high, and we're hoping it won't go any higher, or it will come into the rest of the house.
Ham Island resident Sunita Shroff said she and her husband had been storing items for flood-hit neighbours and could be hosting some of them later.
'Hugely worrying'
Flood warden Gillie Bolton said she was looking after "four chickens, five cars and four houses for people who are on holiday at the moment".
"Yesterday, the bantam chickens were surrounded by four feet of water," she said.
The chickens were rescued later that afternoon.
Ms Bolton said she and her husband had only slept for two hours as Thames Water had been running a tanker to pump out water and lower river levels.
"We've never experienced anything quite like this," she said.
"In 2003 it was bad, but it was very different.
"This time we've had groundwater flooding, inundation from the water treatment works and the river flooding.
"It's hugely worrying, because we don't see any respite at the moment at all."
More than 20 animals, mainly horses, have been rescued from the Blue Ace Horse Animal rescue centre on Ham Island.