Wexham Park Hospital 'failed to protect patients' safety'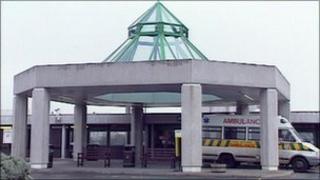 A hospital trust has "failed to protect the safety and welfare of patients", hospital inspectors have said.
Heatherwood and Wexham Park Hospitals NHS Foundation Trust has been ordered to make "urgent improvements" at Slough's Wexham Park Hospital.
It follows an unannounced follow-up inspection of the hospital in October by the Care Quality Commission (CQC).
The trust said it was "disappointed it had not made as much improvement as the CQC believed we should have".
In May the watchdog raised concerns about the care given to patients and the quality of nursing at the hospital.
A team of CQC inspectors spent four days at Wexham Park Hospital during an unannounced inspection in October.
The trust was inspected using nine out of 16 national standards - it failed eight and incurred six formal warning notices.
'Poor standards'
During one inspection of ward seven, the CQC said staff were observed assisting a patient to use a commode by their bed.
The curtains around the bed were not drawn and their attempts to use the commode were observed by the three other patients in the bay.
On another ward, rusty intravenous drip stands were found stored in the shower room.
In a statement the trust said: "We are disappointed that we have not made as much improvement as the CQC believed we should have in five months.
"We are committed to making sustainable change and will continue to work hard to drive the improvements we all want to see."
Inspectors said patients' privacy and dignity was not always respected and they identified "poor" standards of cleanliness and "inadequate" infection control in some areas of the hospital.
They also raised concerns about short-staffed wards and evidence of poor record keeping.
Staff also complained of being bullied and harassed by managers and told inspectors they did not always feel they could raise concerns or make suggestions, a CQC spokesman said.
The CQC will continue to monitor the hospital and will make a further inspection on 11 February.
A commission spokeswoman said conditions could be imposed on the hospital if standards were not met, such as reducing admission times or restrictions on certain services.
It could also issue fines to the trust, however the spokeswoman added that "was rare".
The trust provides services for a population of almost 500,000.