'Cruella' mannequin from Reading's Jacksons Corner store sold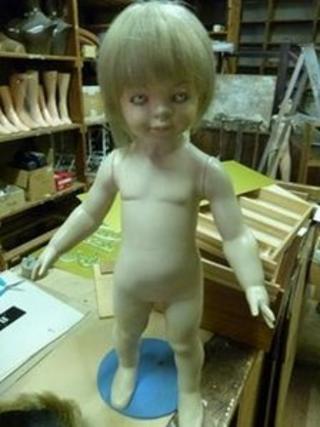 A child-sized mannequin known as "Cruella" - said to have terrified visitors to a Reading shop - has sold for £700 at auction after the store closed.
The mannequin, from the Jacksons Corner store in King's Road, was so well-known it inspired a Facebook page.
It was among the items from the 138-year-old department store which sold for a combined £75,000 at auction.
The family-owned shop shut on Christmas Eve.
In total, 483 lots from the store were sold with the Lamson cash system, thought to be one of the the last working pneumatic cash machines in the UK, going for £900.
A worktop used to make suits attracted the highest price, selling for £1,700 to a man who had serviced it for the past 20 years.
Auctioneer Stuart Maule said buyers had been registered from all over the world, including in Australia.
The Facebook tribute page to the well-known shop was called "The Windows of My Soul".
The page, which has more than 780 "likes", is described as a "place for our memories, especially those of that terrifying child mannequin".
Jacksons Corner shut due to poor sales and an expensive repair bill.