Reading station platform works causes rail disruption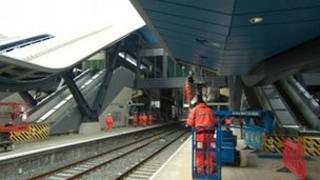 Work to upgrade platforms at Reading station has begun, bringing with it disruption for train passengers.
Buses will replace trains between Reading and Theale until New Year's Eve, with one train an hour running between Theale, Newbury and Bedwyn.
Diversions are also in place to Devon and Cornwall, adding 40 minutes to journey times.
In addition, travellers were delayed between Reading and London Paddington when signalling works overran.
Network Rail apologised for the hold-up in the works around Stockley Airport junction.
A spokesperson added adverse weather conditions were impacting on its annual programme of engineering works across the country, partly because cranes could not operate.
The train operator said it would minimise disruption at Reading, which will see drainage works and platform resurfacing as part of a £900m station upgrade due to be completed in 2015.
Services to Devon and Cornwall will be diverted via Bristol Temple Meads or Melksham.
On New Year's Eve and New Year's Day, there will be two trains an hour between Reading and Newbury, with trains continuing to operate hourly between Newbury and Bedwyn, Network Rail said.