Fire damages at former Reading University halls Bulmershe Court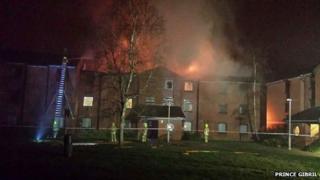 A fire has damaged a hall of residence recently sold by the University of Reading.
The blaze, at the Bulmershe Court Campus in Woodlands Avenue, Woodley, started on Tuesday evening.
Prince Gibril, 36, who works as a security guard on site, said: "I saw a plume of smoke and I knew something was wrong."
Berkshire Fire and Rescue Service said the building was due to be knocked down soon and no-one was inside.
The cause of the fire, which affected the third floor and the roof, is being investigated.
The university confirmed the fire started in the Louden block of the building, which was sold to developers on Monday.
A number of students had been living there temporarily until last month but the hall was empty at the time of the fire.