Berkshire storm: Thousands hit by power cuts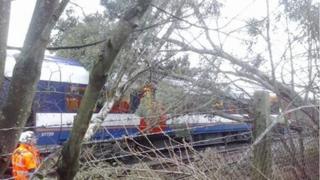 Power cuts, road closures and flooding have caused problems across Berkshire after heavy rain and gale-force winds.
In Reading and Newbury, 3,700 homes were without power on Tuesday evening when winds brought down lines.
Newbury Station was closed because of flooding and flood warnings were issued for the Loddon, Kennet and Enborne rivers.
Aldermaston village had no power for 24 hours and access was restricted because of the high waters.
'Flooding expected'
First Great Western services from Reading to Gatwick Airport were cancelled on Christmas Eve and South West Trains services from Reading to London Waterloo were disrupted.
Abbey Street in Reading was closed after a panel on The Blade, Reading's tallest building, came loose. It was later secured to prevent it falling.
A flood warning was issued by the Environment Agency for the River Loddon at Arborfield and Shinfield and on the River Kennet from Theale to Reading.
Firefighters rescued three horses from a flooded field in Sulhampstead, near Reading.
Aldermaston's parish council chairman David Shirt criticised Southern Electric Power Distribution (SEPD) for a "lack of information" during the power cut, the third in a month.
SEPD said customer care staff in its two centres were working together to provide updates and information to customers.
The Inner Distribution Road in Reading reopened at midday on Christmas Eve, after closing on Monday owing to debris in the road.