Reading IDR shut as safety precaution owing to weather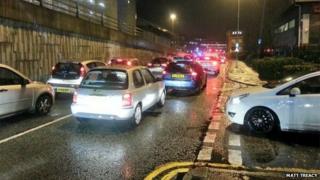 A busy commuter route in Reading has been closed because bad weather and strong winds blew debris into the road.
Reading Borough Council said the flyover section of the Inner Distribution Road (IDR) would remain shut as a "safety precaution".
A council spokesperson confirmed it would reopen at 02:00 GMT on Tuesday.
It is closed both ways between the A33 and A327 London Street. Diversions are in operation, with traffic congestion at Mill Lane and London Street.
"We're not 100% sure if the debris came off the Oracle but it came from that area and fallen into the road," said Simon Beasley, Reading Borough Council's traffic manager.
"We now have a situation where everything needs to be checked to make sure [it] is secure and nothing else is going to fall in the road way.
"So until those checks have taken place, unfortunately the road is going to have to stay closed. We're very much in the hands of the weather."
Mr Beasley said experts were on site but the council would have to "be sensible" about how it progressed. Most work would happen after the wind had died down.
The IDR is a mostly dual carriageway ring road that encircles the town centre.
It forms part of the A329 that runs from Wentworth in Surrey to Thame in Oxfordshire.