Windsor swan Goliath shot through neck with catapult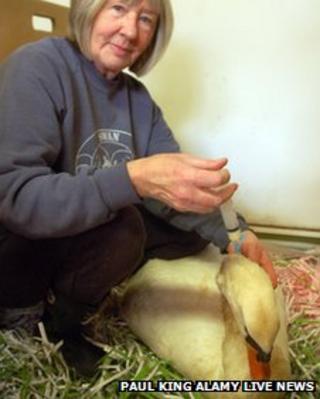 A male swan which was shot through the neck with a catapult in Windsor is "still not out of the woods", a charity has said.
Swan Lifeline said the seven-year-old cob, which has been named Goliath, was found with an injury to its throat on Friday near the town's racecourse.
The bird was taken to the charity's headquarters in the town, where a vet operated on his oesophagus.
Thames Valley Police said the attack was being treated as "criminal damage".
Wendy Hermon of Swan Lifeline said that staff were tube feeding the bird as well as using an intravenous drip.
The town has seen a number of attacks on swans since the summer.
In August, the remains of a barbecued swan were found on the bank of the Thames in the town, while in October, a swan was found swimming with its wings bound and two others were found shot through the neck.