Paramveer Singh Jagdev jailed after posing as boy to abuse girls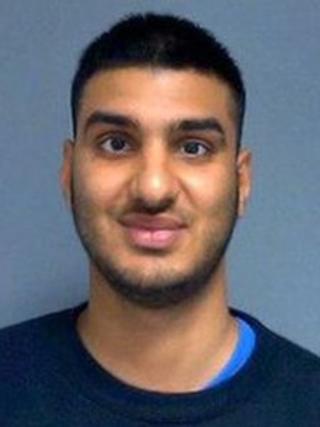 A man who posed as a 16-year-old boy online to groom two girls before attacking one of them has been jailed.
Paramveer Singh Jagdev, 25, of Earley, Berkshire, was sentenced to four years in prison for sexual activity with a child at Winchester Crown Court.
He was also given two years for grooming and causing or inciting a child to engage in sexual activity.
He was found guilty of the offences against the 13-year-olds, from Wiltshire, on 1 November.
His sentences will run concurrently.
'Bombarded with messages'
Wiltshire Police said that in January 2012, Jagdev had contacted the girls via an internet chat room.
A spokesman said the 25-year-old had initially pretended to be a 16-year-old boy and had used a false identity with bogus photos to try and prevent himself from being traced.
Over a few weeks, he groomed the girls online and "bombarded them with text messages and phone calls" before eventually persuading them to meet him.
Jagdev committed a sexual offence against one of the girls whilst visiting the pair, and then threatened both with violence when they told him to leave them alone.
Wiltshire Police's DC Paula Clissold said Jagdev had "preyed on two young vulnerable girls".
"He was fully aware of their age and targeted them for this reason," she said.
"We strongly believe that this man presents a high risk to children and the fact that he has received a prison sentence and been placed on the sex offenders register for life will help to prevent offences in the future."