Greenham Common control tower to be sold to parish council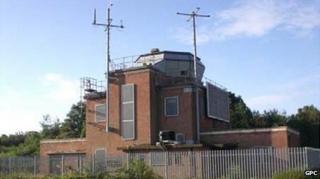 A Cold War airbase control centre will be turned into a visitor centre following the decision to sell it.
West Berkshire Council will sell Greenham Common control tower to the parish council after receiving a 1,292-signature petition.
Greenham councillor Julian Swift-Hook, who led the campaign, said he was "very pleased and very relieved".
"This is where the real hard work starts," he added. The building still needs to be sold and refurbished.
"It's a culmination of 13 years of ambition as a ward member for Greenham to see it used as a public building and as a memorial to the internationally significant events of the 1980s that took place in the shadow of the control tower," said Mr Swift-Hook.
Cruise missiles
Built in the early 1950s, the control tower helped the base play a strategic role in the cold war but has been disused since the base closed in 1993.
The base was the focus for anti-nuclear protests when US cruise missiles were located there in the 1980s.
Following the airbase's closure, Greenham Common became a public open space in 2000 and is now home to a nature reserve and business park.
The aim is to open it to the public by summer 2014.