Callum Wilson murder case: Mother Emma Wilson found guilty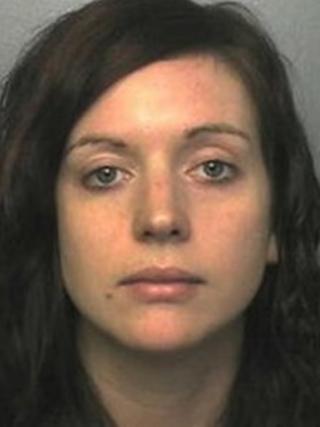 A woman has been found guilty of murdering her 11-month-old son.
Emma Wilson, 25, of Windsor, inflicted an "unsurvivable brain injury" on her son Callum, the Old Bailey heard.
The infant, who also suffered rib, arm and leg fractures and bruising across his face and body, died in March 2011. Wilson will be sentenced next month.
Speaking after the verdict, Det Ch Insp Ian Hunter said Callum had "suffered an abhorrent catalogue of abuse at the hands of his mother".
'Harrowing journey'
Wilson, of Paddock Close, denied murdering her son, who had also lost sight from a detached retina.
She was convicted following a five-week trial.
Callum was born on 23 April 2010 and spent the first few months of his life with foster parents.
In November 2010 he was returned to his mother, but on 18 March 2011 was taken by ambulance to Wexham Park Hospital in Slough suffering serious injuries.
Following medical tests he was taken to the John Radcliffe Hospital in Oxford where he died on 21 March.
Det Ch Insp Hunter said: "This case has been a harrowing and emotional journey for all involved.
"Callum's life was cruelly cut short. Our thoughts will always be with Callum."
Prosecutor Paul Dunkels QC told the jury Wilson had claimed "constant pushing and rolling" of Callum by his then 23-month-old brother may have been to blame for the injuries.
He added: "But he could not have fractured Callum's ribs which was consistent with violent squeezing of Callum's chest."
She also blamed Callum's "boisterous" brother after health and social workers spotted scratches on Callum during visits to Wilson's flat, the jury was told.
Mr Dunkels said that Callum's fatal brain injury was caused by a "direct blow" or from striking his head against something, while his leg fracture may have been the result of "banging against a hard surface".
Non-existent sister
The court heard Wilson lied to staff and parents at a playgroup at Woodlands Park Village children's centre in Maidenhead, claiming Callum was her cousin's son.
She provided a false surname and address for the child and claimed on one occasion that bruising on Callum's face had been caused by an older sister who did not exist.
Staff noticed Callum change from a "happy, smiling baby" to "emotionless and listless", Mr Dunkels said.
He added it was not the Crown's case that Wilson intended to kill her son but claimed she carried out "a violent act" against a "vulnerable" child.
"It may have been in a moment of temper, she may have been regretful after it was done," he said.
"She must have realised she was causing Callum a great deal of pain."
Wilson will be sentenced at the Old Bailey on 24 January.