Reading's Station Hill plans approved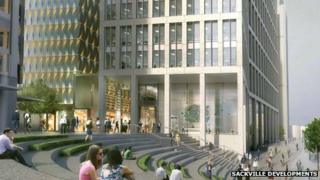 Plans for a £500m redevelopment in Reading have been given outline planning approval.
Developers want to build 300 apartments, shops, offices and a sports pitch on the top floor of a car park.
Outline plans which would see the disused Friars Walk shopping centre demolished were approved by Reading Borough Council on Wednesday.
One councillor said the development was "critical" to the town following the £895m redevelopment of Reading Station.
Councillor Tony Page, of Reading Borough Council, said: "You come out of one of the most modern station's in Europe and you look across at boarded shops and a vista of dereliction."
Work to knock down existing buildings on the site and the creation of a temporary events space is expected to start in the summer.
The redevelopment which includes five new buildings is expected to be completed between 2019 and 2024.