Fish rescued from leaf-blocked Caversham brook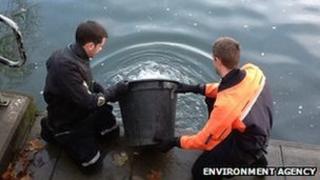 Hundreds of fish have been rescued from a brook in Berkshire after it became blocked by leaves and debris.
The Environment Agency (EA) said about 400 fish, including roach and chub, had been affected by the "dam" which "built up over time" near Caversham Lock.
The fish are now being transferred to the main body of the River Thames, the EA said.
It added that the work, which started earlier, was on-going and said it expected more fish would need moving.