Reading's Station Hill plan set for green light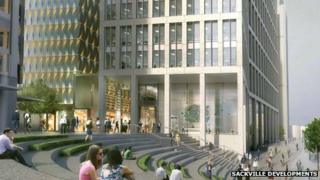 A long-awaited plan to transform a large area near Reading railway station has been recommended for approval.
Now in its third incarnation, the Station Hill plan would see a number of buildings demolished with shops, offices and up to 300 homes built.
Versions of the proposal, which now includes a rooftop sports pitch, won approval in 2008 and 2011 but neither got off the ground.
Councillors will debate the latest outline application on Wednesday.
The first outline plan was granted in 2008 but it was called in by the Secretary of State.
Developers Sackville Developments Reading Ltd (SDRL) subsequently withdrew the application to work up a larger scheme with reduced overall density and more public space.
In 2011, a second outline version of the scheme was also approved but failed to get off the ground due to the economic climate.
The latest incarnation, a joint version between SDRL, Benson Elliot and Stanhope, attracted four letters of objections and one in support.
Fears included a lack of parking and worries that proposed skyscrapers could cause stronger winds.