Jacksons Corner department store has closed after 138 years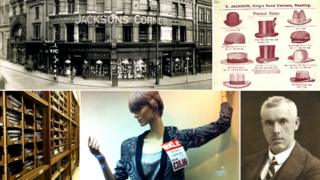 A landmark Reading department store has closed after 138 years in business.
Jacksons of Reading opened on 17 September 1875, but the family-run business said poor sales and costly repairs led to the decision to close.
Managing director Brian Carter, a great grandson of the founder, said the decision was "terribly sad" but a sale had been agreed in the summer.
The store, on King's Road, used a revolutionary system of pneumatic pipes to transport cash around the building.
The store closed at 13:00 GMT.
Floss bobbins
The founder Edward Jackson, the ninth out of 11 children, bought number 6, High Street, Reading to set up a gentleman's outfitters.
When that property was demolished to make way for the town's tram system Jacksons Corner was created, with the shop sign becoming a landmark in the town.
The business flourished and ladies fashions were introduced in 1903, followed by lingerie, knitwear, footwear, craft and its well-known school wear department.
Its sometimes unusual window display items prompted an appreciation page on Facebook, inviting users to snap the quirkier things on show including lawn bowl polishing sleeves and floss bobbins.
The store was also known for its display of knitted dolls to mark events, including the wedding of Prince William and Catherine Middleton.
It remained an independent family-run business up until it closes its doors at 13:00 GMT.
Knitting patterns
Residents from Reading remember Jacksons fondly.
Celia Wilson, 60, said she used to visit the store in the 60s and 70s to get her school outfit with her mum.
"Later I went with my children for their school uniforms. You were always sure of a high standard," she said.
Chloe Tigwell, 29, said: "I will miss the knitting department and the lovely staff who would help me decipher many a knitting pattern when I got stuck. I'll be sad to see it go."
A local indie band formerly had the name Jacksons Corner and Reading country singer Steve Morano has dedicated a song to the building and used the name as an album title.
Reading Museum is hosting an exhibition on the store's history until 13 April, and a local theatre company recently staged a performance called Jacksons Corner "marking the sad passing of a Reading institution".
'An empty shell'
Other residents feel the closure of the store signals a nail in the coffin of the town's retail heritage.
Sam Tattersall, 33, said: "Jacksons Corner is the last major bastion of historic Reading to be found in retail.
"Another building can now be scored from existence from my old black and white 1905 photograph of the town.
"What will open in its place? Another chicken fast food establishment or perhaps a 99p store."
Mr Carter confirmed the building has been sold to a new owner but was unsure what the plans for its future might involve.
Looking round the store he said: "It looks desolate and completely lifeless and not at all how it should be. It's not a shop but an empty shell.
"Unfortunately circumstances have overtaken us, customers have moved on, shopping habits have moved on and we are no longer a viable proposition as we've been for many years.
"It has become increasingly hard work as time goes on, other problems keep arising and the building is really in a bad state. It needs a lot of money spent on it - that was the deciding factor in the end."
He added that when he locks the door for the final time on Christmas eve it would be a "very strange feeling".
"I shall be interested in what happens to the building," he said. "I hope it's looked after and turned into something useful.
"I don't like to think of it being empty and boarded up. That would upset me."