Land row taxi driver murder bid convictions safe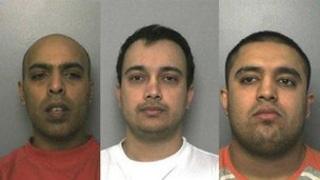 Three men jailed indefinitely for trying to murder a Berkshire taxi driver have failed to have their convictions overturned.
Amjed Mahmood, Jaspal Kajla and Imran Khan were each sentenced to life with a minimum of 10-and-a-half years for the attempted murder of Qadir Hussain.
Three Appeal Court judges have ruled their convictions were safe, despite police breaching their human rights.
The trio have always denied plotting to kill the father-of-three in 2010.
Covert recording
Mahmood, 33, of May Street, Coventry and Kajla, 37, of Hepworth Road, Binley, along with Khan, 36, of Wickham Road, Lower Earley, Berkshire, were found guilty of attempted murder in 2012.
In launching their appeals, they claimed the trial judge wrongly allowed jurors to hear an "unauthorised" covert police recording of a conversation between Mahmood and Kajla.
However, three senior judges upheld their convictions, even though police "breached their privacy".
Taxi driver Mr Hussain was shot three times on his driveway but survived the attack.
Khan hired the two other men to carry out the shooting following a long-running feud between the two families over land ownership in Pakistan.
Mahmood and Kajla were recorded talking to each other about the shooting while being transported in a security van to court in March 2011.
Police had authorisation to use covert recording while chasing the suspects, but only prior to them being charged, sparking a row as to whether officers had gone too far in bugging the van, the judge said.
The trio's lawyers argued that the decision to capture the conversation was disproportionate and "unlawful".
'No entrapment'
The recording was not presented as evidence in the original trial in July 2011, at which a jury failed to reach a verdict.
However, it was presented at the subsequent retrial in which the men were convicted.
Dafydd Enoch QC, for the pair, said that decision by Judge Zoe Smith meant the panel was unfairly prejudiced against the trio and the convictions could not stand.
Lord Justice McCombe, sitting with Mr Justice Wyn Williams and Mr Justice Patterson, accepted there was a "failure" to observe the limits of the authorisation obtained.
"[However] there was no misrepresentation, entrapment or trickery," he added.
"As the recordings themselves demonstrate, the two men were well aware of the possibility that their conversation might be bugged.
"There was no oppression or coercion."
The appeal judge said the court had "no hesitation" in ruling Judge Smith's decision to admit the evidence entirely correct.
Lord Justice McCombe also rejected a separate ground of appeal raised by Michael Wolkind QC, on behalf of Khan, that part of recorded evidence that was said to connect him to the plot should have been excluded.