Reading post service resumes after 'aggressive dog' row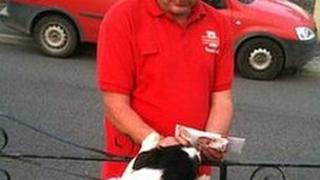 Postal deliveries have resumed to 40 families in Reading who had no post for seven months because of a safety dispute with Royal Mail over an "aggressive dog".
Mail had not been delivered to three streets in Whitley because a dog reportedly bit a postal worker in June.
Royal Mail apologised and said deliveries had resumed on a trial basis.
A spokesman said it would meet residents and the council.
Marcella Kelly, of Blythe Walk, who had to collect her post from the depot in Gillette Way by bus, said "a lot of pensioners" in the area had been affected.
Rob Wilson, MP for Reading East, intervened after he was contacted by another constituent whose father, William Manning, had missed an important appointment at the Royal Berkshire Hospital because of not having received his notification letter in time.
'Totally unacceptable'
He said: "Although I appreciate that Royal Mail must protect its posties from dog attack, suspending deliveries for months on end is totally unacceptable.
"This has caused substantial problems to Mr Manning and no doubt others as well.
"A solution needed to be found and I am delighted that Royal Mail has reinstated deliveries to the 40 households in the Kinver Walk area, albeit on a trial basis."
Mr Manning, of Kinver Walk, said "It's been terrible for us.
"We've lost our medical appointments and operation for my eye.
"I've got glaucoma and a cataract and because of the problems getting our post I've got letters too late.
"Many of the people in this street are old and suffering the same."
Royal Mail said in a statement: "We are seeking a meeting with representatives of local residents and the local authority to agree a permanent solution which will ensure mail can be delivered safely in future.
"We sincerely apologise to customers for the inconvenience caused by the mail delivery suspension."
The firm said there had been more than 5,500 attacks on postmen and women in the UK since April 2011, "some leading to a permanent disabling injury".