Wokingham council moves ahead with Elms Field plans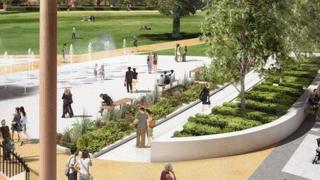 Campaigners against plans for a £95m regeneration development in Wokingham have failed to get the council to rethink the scheme.
The development in Elms Field Park was discussed at an extraordinary council meeting at St Crispin's School on Wednesday night.
The council plans to build 157 homes, a supermarket and a hotel on the park.
One councillor said the development was the only way to regenerate the "dying" town.
'Really important'
Councillor Alistair Corrie, of Wokingham Borough Council, said: "We know that the town has been dying for some time now.
"For at least 30 years people have been asking for regeneration. it's really, really important that we get on with this now."
Campaigners collected more than 2,000 signatures to trigger a three-hour debate against the development which will nearly halve open space at the park.
Lib Dem councillor Prue Bray, leading the opposition campaign, said: "I am thinking of writing to the secretary of state and asking him to take the planning decision out of the hands of the council and put it in the hands of the planning inspector.
"Purely and simply because that would be the most transparent way of doing it."